create_replace_function2.htm
Convert Celsius to Fahrenheit
The example below, function, which would return return a numeric value from an equation embedded in a packet "$$' . This packet suffices as an Alias of a PL/pgSQL function.
You may call this UDF (user defined function) using server side scripts like PHP with SQL constructs.
Formatting the returned value with unlimited decimal places to two decimal points with "SQL ROUND() Function", which is supported by SQL engine within PL/pgsSQL
Note : With PHP as an interface language, the syntax of calling a function differs between Oracle and PostgreSQL

Oracle : begin :bv:=CTOF(29.25) ; //
PostgreSQL : select CTOF(29.25);
CREATE OR REPLACE FUNCTION cfcal(i numeric
)
RETURNS numeric AS $$
DECLARE
temp1 numeric ;
BEGIN
RETURN (i * 9/5) + 32 ;
END;

$$ LANGUAGE plpgsql;
select cfcal(37.6);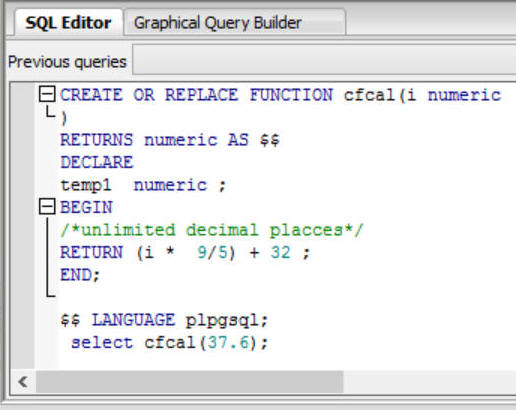 Using psql command line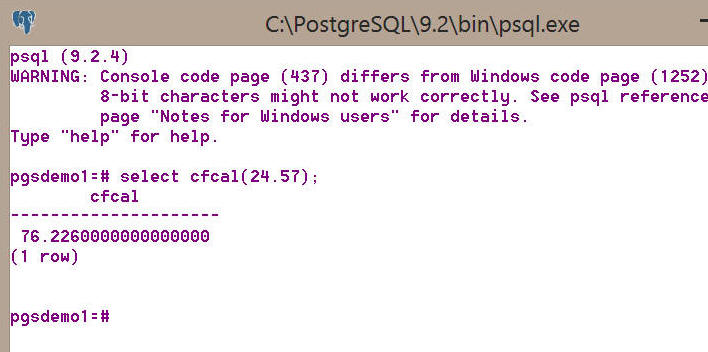 Query was saved with a custom name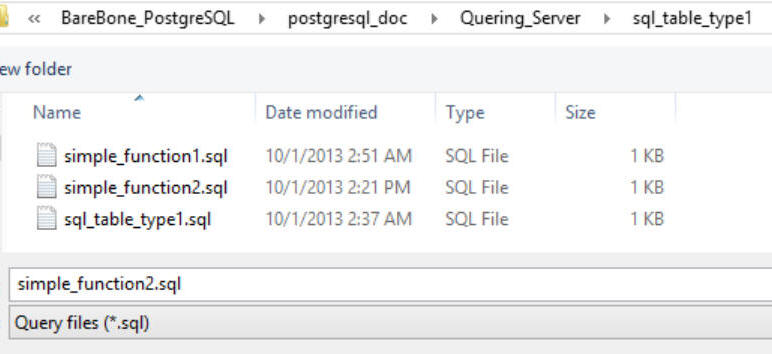 However: Object browser will keep name as created with psql, and it is to note that file that saved with sql extension can have any reasonable name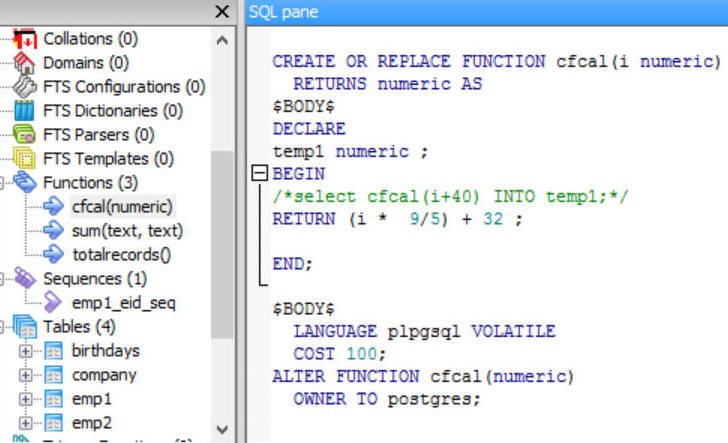 SQL ROUND FUNCTION: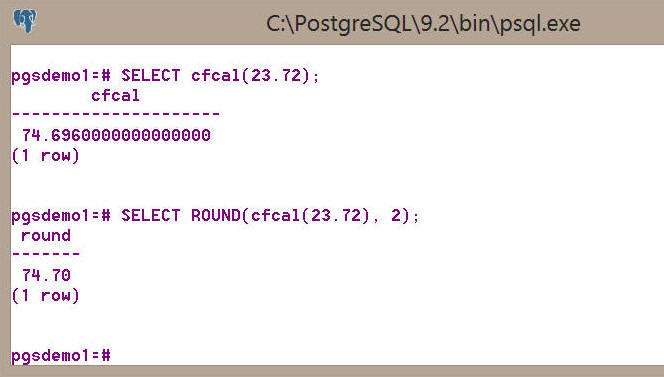 Using PHP scripts: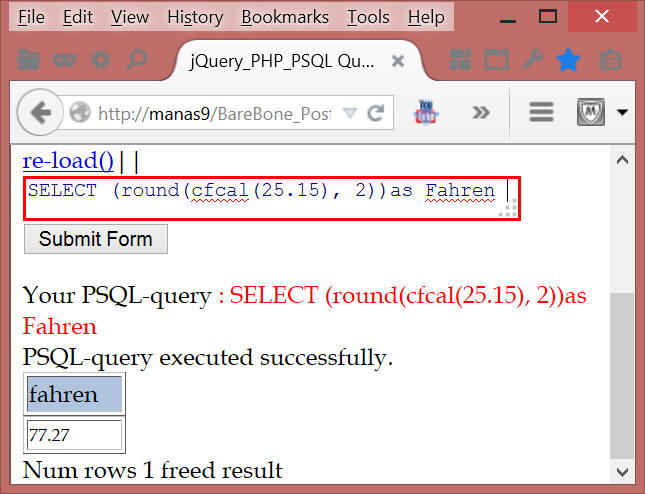 In Oracle the function oci_bind_by_name, binds to PHP variable which defer SQL injection through PHP script.
Script : PLSQL Script:

create or replace
FUNCTION CTOF(i IN NUMBER)
RETURN NUMBER IS
t1 number(4,2);
BEGIN
dbms_output.put_line('Internal display');
dbms_output.put_line((i * 9/5) + 32);
t1:=((i*9/5)+32);
RETURN t1;
END ;

PHP Script: Using I : oci_bind_name for stored function
<?php
$sql = "";
$conn = oci_connect('hr', 'Son', 'localhost/orcl.gateway.2wire.net');
-----
$stmt = oci_parse($conn, $sql);
oci_bind_by_name($stmt, ":bv", $p1, 6);
$result= oci_execute($stmt);
echo"<br/> Output ..".$p1. ".. end of message<br/>";
oci_free_statement($stmt);
oci_close($conn);
echo "<br/> Oracle db connection closed";
//
}
?>
Calling CTOF : begin :bv:=CTOF(29.25); end;

If you don want to use oci_bind_by_name, you may simply call the above function, like "select CTOF(25.21) as CElFah from dual"
PHP Script :
<?php

------

$stmt = oci_parse($conn, $sql);
oci_execute($stmt);

---

?>