SQL_JOINS_OVERVIEW1.htm
EQUIJOIN : This type of join, uses equal to operator to join these two tables, therefore is called as equi-join.
select e.col1, e.col2, e.col3, d.col1, d.col2
from table1 e, table2 d
where e.col1= d.col2
Outer join: In this type of join, only the rows that contain the common keys are selected. In query
retains the rows of both tables
used to view all records from ONE table
left and right outer joins

left joins: returns all from left table
right joins; returns all from right table
full joins: returns all column from both
Inner join :
used to find matching rows in two tables
Self-joins
When a table is joined with itself it is called as self-join. This is a variant of join. In this two
copies of the same table are taken and joined as if they are two different types.
NATURAL JOINS:
ON CLAUSE can't be used with natural joins
USING clause can't be used with natural joins and LOB
INNER JOIN : Table_A from left joins to right Table_B with equijoin condition.
used in equi-join and natural join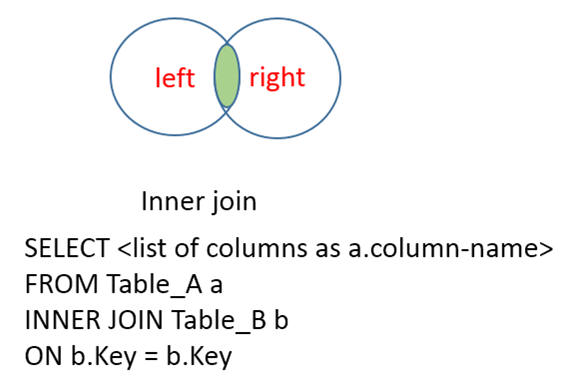 Outer Joins: In a Query A to B, this query also prints the column in the table(B) that did not match with table A

Left outer join
SELECT <list of column_names>
FROM table1 t1
LEFT OUTER JOIN table2 t2
ON t1.column_name=t2.column_name;
Query returns all rows from the left (t1), with matching row in the right table(t2).

Right outer : Returns all the rows from (Right-Outer ) or t2, table have no matching row in t1 or left table.
SELECT <list of column_names>
FROM table1 t1
RIGHT OUTER JOIN table2 t2
ON t1.column_name=t2.column_name;
Compared : left outer with right outer :

LEFT returns ( 14 ROWS) and right returns 15 rows
Right outer join: Prints column "operation" from the DEPT table

Left outer join: It prints all the columns in EMP , and ignores unmatched column in the table DEPT

right join
SELECT e.* , d.* FROM emp e right outer join DEPT d ON e.deptno = d.deptno
PARTITION BY :

SELECT EMPNO, ENAME,DEPTNO, ROW_NUMBER() OVER (PARTITION BY DEPTNO ORDER BY ENAME) RN FROM EMP