http://www.tutorialspoint.com/plsql/plsql_data_types.htm

PL/SQL variables, constants and parameters must have a valid data type, which specifies a storage format, constraints, and valid range of values. This tutorial will take you through SCALAR and LOB data types available in PL/SQL and other two data types will be covered in other chapters.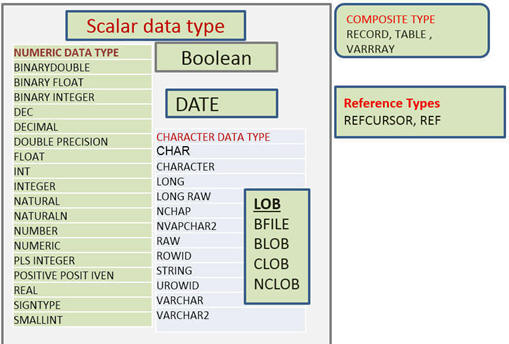 | Category | Description |
| --- | --- |
| Scalar | Single values with no internal components, such as a NUMBER, DATE, or BOOLEAN. Oracle does not have boolean type, but cab be simulated by using either char(1) or number(1). |
| Large Object (CLOB,BLOB) | Pointers to large objects , such as text, graphic images, video clips, and sound waveforms,which are stored separately from other data items in a file. Oracle provides transactional support to Internal LOB. Binary Blob (BLOB) holds object like video clips, Character LOB (CLOB) large blocks of single-byte fixed with character data. |
| Composite: collection and records | Data items that have internal components that can be accessed individually. For example, collections and records. In Collection, the data of same type, called elements , then create a variable with %type clause. |
| Reference | Pointers to other data items. |
PL/SQL Scalar Data Types and Subtypes
PL/SQL Scalar Data Types and Subtypes come under the following categories:
| Date Type | Description |
| --- | --- |
| Numeric | Numeric values on which arithmetic operations are performed. |
| Character | Alphanumeric values that represent single characters or strings of characters. |
| Boolean | Logical values on which logical operations are performed. |
| Datetime | Dates and times. |
PL/SQL provides subtypes of data types. For example, the data type NUMBER has a subtype called INTEGER. You can use subtypes in your PL/SQL program to make the data types compatible with data types in other programs while embedding PL/SQL code in another program, such as a Java program.
PL/SQL Numeric Data Types and Subtypes
Following is the detail of PL/SQL pre-defined numeric data types and their sub-types:
| Data Type | Description |
| --- | --- |
| PLS_INTEGER | Signed integer in range -2,147,483,648 through 2,147,483,647, represented in 32 bits |
| BINARY_INTEGER | Signed integer in range -2,147,483,648 through 2,147,483,647, represented in 32 bits |
| BINARY_FLOAT | Single-precision IEEE 754-format floating-point number |
| BINARY_DOUBLE | Double-precision IEEE 754-format floating-point number |
| NUMBER(prec, scale) | Fixed-point or floating-point number with absolute value in range 1E-130 to (but not including) 1.0E126. A NUMBER variable can also represent 0. |
| DEC(prec, scale) | ANSI specific fixed-point type with maximum precision of 38 decimal digits. |
| DECIMAL(prec, scale) | IBM specific fixed-point type with maximum precision of 38 decimal digits. |
| NUMERIC(pre, secale) | Floating type with maximum precision of 38 decimal digits. |
| DOUBLE PRECISION | ANSI specific floating-point type with maximum precision of 126 binary digits (approximately 38 decimal digits) |
| FLOAT | ANSI and IBM specific floating-point type with maximum precision of 126 binary digits (approximately 38 decimal digits) |
| INT | ANSI specific integer type with maximum precision of 38 decimal digits |
| INTEGER | ANSI and IBM specific integer type with maximum precision of 38 decimal digits |
| SMALLINT | ANSI and IBM specific integer type with maximum precision of 38 decimal digits |
| REAL | Floating-point type with maximum precision of 63 binary digits (approximately 18 decimal digits) |
Following is a valid declaration: